Creative Kids
NSW Parents and Guardians, use your Creative Kids vouchers on Junior Engineers' exciting range of courses during School Holidays, School Terms, Online Private Tutoring and Online Small Group programs and save $50!
A registered Creative Kids provider, Junior Engineers' extensive curriculum of STEM, Robotics, Coding and Creative curriculum means there's something for every child now on sale across greater Sydney. 
Image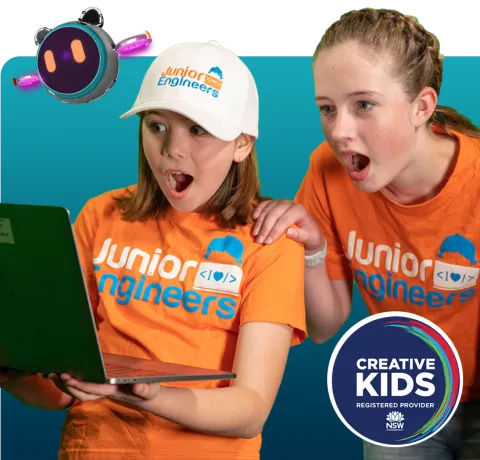 3 Simple Steps to Redeem your rebate
It's really simple to redeem your Creative Kids vouchers with Junior Engineers. Simply follow the steps below, and take advantage of your $50 rebate to get your kids learning new, future-fit skills in our fun, engaging programs.
What happens next?
On receipt of your rebate request, Junior Engineers will submit your voucher details to My Service NSW. Once your voucher is approved, Junior Engineers will process your $50 rebate back to the credit/debit card used for your program registration. Please allow up to 10 days for your rebate to be processed. Refer to our Terms and Conditions for all terms of use.  
What is Creative Kids?
Creative Kids is an initiative by the NSW Government to make it easier for school-aged kids to get involved in creative and cultural activities and give kids the opportunity to find their passion and learn new skills. Junior Engineers is a registered provider, with over 500 parents using their vouchers on our programs since its inception in 2022.
Coding and Robotics are among the approved activities that vouchers can be utilised for. The program is designed to help kids get creative, and alleviate costs of registration fees for approved activities.
Please note that funding is released annually for this program, and is subject to renewal by NSW Government. Our self-paced online learning platforms Codeflix and Codemonkey are not eligible for Creative Kid rebates.  Visit Creative Kids: https://www.service.nsw.gov.au/creative-kids to keep up to date with any changes. 
Register your Creative Kids voucher here
Need help with your voucher?
Check out our frequently asked questions, call us directly, or fill out this contact form. 
For Customer Service, Course Registration and Creative Kids enquiries:
Our phones are manned 8.30am - 5pm Monday to Friday.
Be in the know!
Make sure your kids never miss a class – and you never miss a deal!
Jump onto our newsletter and be the first to know what's happening at Junior Engineers.
Image