School Holiday Programs
Are you on the hunt for a fantastic holiday camp to keep your kids engaged and entertained during their break? Look no further than Junior Engineers School Holiday programs!
Special 1 Day Pre-Christmas Courses: 
This summer we're introducing a range of 1 Day Pre-Christmas Courses! Choose from either CodeMonkey (Ages 5-8) and Minecraft Education Superhero Mode (Ages 7-12) classes, so you can drop the kids off and get through your pre-Christmas "to-do" list.
Over 100 school holiday camps Australia-wide:  
We are thrilled to offer the perfect blend of fun and education for children aged 5-13. This Christmas, we'll be exploring Superhero Mode, with courses available both online and in-person. 
Our holiday programs will:
Provide holiday care while you work, or get ready for Christmas!
Are a great way to keep young minds active and engaged in a safe and fun environment
Inspire your child's passion for STEM education 
Allow your children to connect with like-minded kids who share their interests, in a safe and supporting environment 
Will make this break a memorable experience for your kids.
Search for a course below and watch them flourish in an environment that seamlessly combines fun and learning.
Apply for your NSW Gov't Creative Kids voucher here. 
Image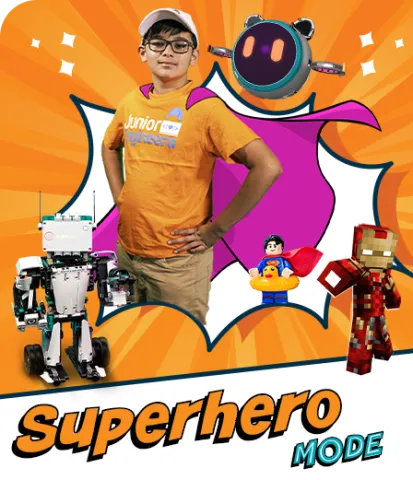 Be in the know!
Make sure your kids never miss a class – and you never miss a deal!
Jump onto our newsletter and be the first to know what's happening at Junior Engineers.
Image