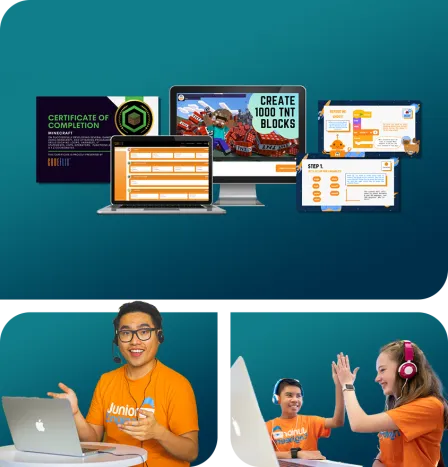 Codeflix
Codeflix is Junior Engineers' self-paced online coding education platform for kids aged 7-17. Code along with engaging video tutorials filmed with Junior Engineers instructors, develop real games, software apps, and animations.
Learn through immersive and fun tutorials - for any level of experience. Whether your kid is a coding rookie or budding tech superstar, find the perfect course and create awesome projects!
Best of all, it won't cost anything to start. Sign up for a FREE 7-day trial and get started today. 
7 - 17 years
Grades 2 - 12
This course includes
All content in Codeflix Platform is curated by experienced STEM educators:
- Code along with the video tutorials using picture-in-picture functionality for Scratch and JavaScript tutorials.
- Watch engaging video tutorials with Australian-based tutors covering Minecraft, ROBLOX, JavaScript, Python, Scratch and more.
- Download engaging student resources with coding solutions.
- Experience course progression and clear learning pathways.
- Recognise achievements with downloadable certificates of completion.
 
Set your child up with essential skills for the future. The next generation of entrepreneurs, digital artists, and tech superstars are learning to code now. Start them with CODEFLIX today!
Computer Requirements
Codeflix is completely cloud-based, and delivered via your computer's browser. Codeflix is optimised for Chrome, although it will work on all common browsers.  A good internet connection, and laptop is recommended for optimum results.
 
Installation Details
There are no software licenses required for Scratch or JavaScript as these courses are able to be coded inside the Codeflix platform. Roblox and Python platforms are free to download and install. Any Python IDE can be used, however in our videos we use Thonny IDE.
Minecraft Education requires users to download the Minecraft Education version of Minecraft. You must have an educational email address to download this softwared (any email from an educational institution should be usable. A license to use Minecraft Education is also required - most educational instutions purchase these licenses, however if you are having issues, please contact us.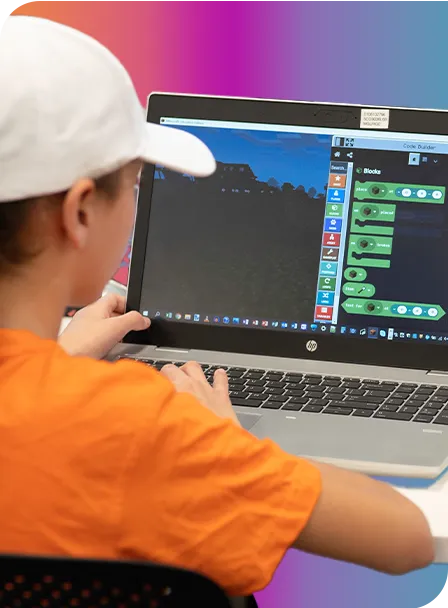 Codeflix Pricing
FREE 7-day trial - start coding instantly!
Choose from our 2 value-packed subscription options. Each pack provides unlimited access to the complete CODEFLIX video library for the selected subscription period. Receive graded courses, progress tracking, certificates, downloadable resources and much more!
Start for FREE: 7-day trial, no contracts, cancel any time 

Please note: 
Payment will be billed at end of FREE 7-day trial period, and on the anniversary of your subscription. Includes all coding tutorials access for 1 child.
You might also like

8 - 12 years
Grades 3 - 6
Learn to code, build and program a robot using Lego Mindstorms technology! 
Our Lego Mindstorms course is jam packed with fun coding and robotics activities.

Your kids will love our hands-on Scratch classes using drag-and-drop coding. Scratch is a friendly, fun platform that engages kids quickly and builds their core understanding of key coding concepts.

10 - 13 years
Grades 4 - 7
Our Roblox Obby program is the perfect way to advance your child's future-fit STEM, coding and robotics skills in a fun and creative way, far beyond what they're taught in school.