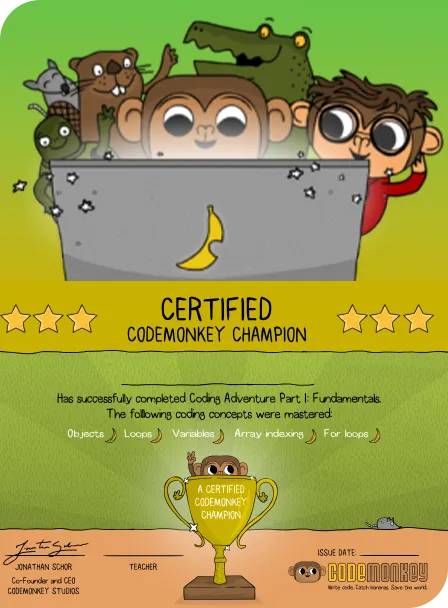 CodeMonkey
This School Holidays, Code with CodeMonkey, an award-winning online platform that teaches kids real coding languages such as CoffeeScript and Python.
Prepare for the holiday season with a one-day course just before Christmas. Entrust us with your child's care while you tackle your Christmas errands stress-free.
Then start the new year with a bang by enrolling your child in our STEM Explorers two-day holiday program; they're guaranteed to love it. Expert tutors will guide your child through exciting STEM activities, ensuring they have a fantastic time. Your child will have the opportunity to make new friends who share their interests during our program.
CodeMonkey, our award-winning online platform, teaches kids real coding languages such as CoffeeScript and Python. Children learn both block-based and text-based coding in an engaging, game-like environment.
CodeMonkey is suitable for beginners and is designed for use in schools, clubs, and at home. Children as young as 5 can start programming, solving scaffolded puzzles and building their own games. Get your child started on their coding journey today with CodeMonkey!
 
CodeMonkey is available at
This course includes
In our 1 day CodeMonkey Course Includes:
Free 3 month subscription to CodeMoney
Educational resources for students of different grades and experience levels.
Learning coding basics such as block-based and text-based coding: from CodeMonkey Jr. to Banana Tales.
Learning how to code in real programming languages like CoffeeScript and Python. 
Developing the necessary skills for the future while having fun!
The next generation of entrepreneurs, digital artists, and tech superstars are learning to code now.
Happy coding!
You might also like

8 - 12 years
Grades 3 - 6
Learn to code, build and program a robot using Lego Mindstorms technology! 
Our Lego Mindstorms course is jam packed with fun coding and robotics activities.

Your kids will love our hands-on Scratch classes using drag-and-drop coding. Scratch is a friendly, fun platform that engages kids quickly and builds their core understanding of key coding concepts.

10 - 13 years
Grades 4 - 7
Our Roblox Obby program is the perfect way to advance your child's future-fit STEM, coding and robotics skills in a fun and creative way, far beyond what they're taught in school.